Click here for Church Bulletins
---
The Diocese is launching an initiative to help Foodbanks that are struggling at this time.  The Diocese will give £1000 and is also inviting others to donate by text giving.  (Text FOODAID to 70085 to donate £5).
Please click on link below for video which launches this initiative from Bishop Nolan.
At his Angelus on Sunday Pope Francis invited everyone to join him in saying the Our Father on Wednesday 25th at 12.00 Rome time (11.00 our time), and also on Friday 27th when he will preside over a Moment of Prayer at 6.00 pm Rome time (5.00pm our time).
Please advertise this so that as many people as possible can join with Pope Francis in prayer.
The Vatican live-streaming link is: https://www.youtube.com/channel/UC7E-LYc1wivk33iyt5bR5zQ
Scotland's national Catholic newspaper will be free this week in response to the suspension of public Masses in churches throughout the country.  The Scottish Catholic Observer, which has been keeping the faithful informed since 1885, has distributed the newspaper to parishes across Scotland, waiving the cover price this week as a goodwill gesture. 
Churches across Scotland announced on Wednesday March 18 that Masses would be suspended until further notice due to the risk posed by the coronavirus outbreak. Many parishes across the country have since announced that they will open their church several times a week for Catholics to take part in private personal prayer and Eucharistic Adoration.
Editor of the Scottish Catholic Observer, Peter Diamond is hopeful that parishes will be able to distribute the papers to the sick, housebound and isolated over the next week to help regular readers get their SCO. "This is a very difficult time for Catholics across Scotland with the suspension of public Mass indefinitely," said Peter Diamond. "We felt it was the least we could do for parishes and our readership this week, especially those who are perhaps not online or housebound.  "Hopefully parishes will call on groups like SSVP, Legion of Mary or the youth in their parish to help post a copy through a parishioner's door. It is difficult times like these that we really see the value in our Church community and I've no doubt that parishes up and down the country are already mobilising themselves for the greater good.  "We know it isn't much but as a small business it is all we can afford to do at this time as our main aim is to keep the newspaper alive."  The weekly news outlet, which has only two full-time editorial staff, is offering a brilliant subscription offer where readers and supporters can get the next six copies of the SCO delivered to their door for just £10.
"This is a chance to get the national and international Catholic news delivered right to your door, which will be handy I'm sure for our older readership who aren't on Facebook or Twitter and rely on getting the paper at Mass," added Diamond.
"The paper has been noted as a good resource for building up Catholic knowledge and keeping informed about the wider Church. Our regular contributors and features help create a sense of New Evangelisation, a key message of Pope Francis' in recent years.
"You share a copy with members of your family or people who have perhaps drifted from the Church. One of our articles just might be a way back for your loved one."
To take out a 6 week subscription to the Scottish Catholic Observer, which is delivered to your door for just £10 you can visit www.sconews.co.uk/subscribe.
Or call 0141 241 4956 from Monday to Friday 9am to 5pm where someone will handle your subscription over the phone.
Thank you for supporting Scotland's national Catholic newspaper.
Due to the Coronavirus and the Government Lockdown, the Parish Office is now closed until further notice.  I will be working from home, if you require any information and assistance, just call the office number 01294 463461 and you will be redirected to my mobile, you can still email saltcoats@gallowaydiocese.org.uk.  I will do everything I can to keep you all updated on this website. 
If you wish to receive the Sunday Readings and Reflections by email, please email me and I will send them out to you weekly every Friday.
Take Care and Stay Safe
Lorna 
COVID—19
 Greetings everyone
As a result of the Coronavirus the decision has been taken by the Bishops of Scotland in line with Government advice that all public worship should cease.   I wish to remind you that I say private Mass each day for people of our parishes and their intentions.  
All parish activities are suspended at present but the bulletin can be accessed online on St Mary's parish website.  
Funeral Masses have now been suspended.
First Reading Ezekiel                         37:12-14
 The Lord says this: I am now going to open your graves; I mean to raise you from your graves, my people, and lead you back to the soil of Israel. And you will know that I am the Lord, when I open your graves and raise you from your graves, my people. And I shall put my spirit in you, and you will live, and I shall resettle you on your own soil; and you will know that I, the Lord, have said and done this – it is the Lord God who speaks. The Word of the Lord
 PSALM
 R/ With the Lord there is mercy and fullness of redemption.
Out of the depths I cry to you, O Lord, Lord, hear my voice!
         O let your ears be attentive to the voice of my pleading.
If you, O Lord, should mark our guilt, Lord, who would survive?
         But with you is found forgiveness; for this we revere you.
My soul is waiting for the Lord, I count on his word.
         My Soul is longing for the Lord more than watchman for daybreak. 
        (Let the watchman count on daybreak and Israel on the Lord).
Because with the Lord there is mercy and fullness of redemption,
          Israel indeed he will redeem from all its iniquity.
Second Reading Romans 8:8-11
 People who are interested only in unspiritual things can never be pleasing to God. Your interests, however, are not in the unspiritual, but in the spiritual, since the Spirit of God has made his home in you. In fact, unless you possessed the Spirit of Christ you would not belong to him. Though your body may be dead it is because of sin, but if Christ is in you then your spirit is life itself because you have been justified; and if the Spirit of him who raised Jesus from the dead is living in you, then he who raised Jesus from the dead will give life to your own mortal bodies through his Spirit living in you. The Word of the Lord
Gospel John 11:3-7.17-27.33-45
 The sisters, Martha and Mary, sent this message to Jesus, "Lord, the man you love is ill."  On receiving the message, Jesus said, "This sickness will end not in death but in God's glory, and through it the Son of God will be glorified." Jesus loved Martha and her sister and Lazarus, yet when he heard that Lazarus was ill he stayed where he was for two more days before saying to the disciples, "Let us go to Judea."  On arriving, Jesus found that Lazarus had been in the tomb for four days already.  Bethany is only about two miles from Jerusalem, and many Jews had come to Martha and Mary to sympathise with them over their brother. When Martha heard that Jesus had come she went to meet him. Mary remained sitting in the house. Martha said to Jesus, "If you had been here, my brother would not have died, but I know that, even now, whatever you ask of God, he will grant you." "Your brother," said Jesus to her " will rise again." Martha said, "I know he will rise again at the resurrection on the last day."  Jesus said: "I am the resurrection. If anyone believes in me, even though he dies he will live, and whoever lives and believes in me will never die. Do you believe this?" "Yes, Lord," she said, "I believe that you are the Christ, the Son of God, the one who was to come into this world."
Jesus said in great distress, with a sigh that came straight from the heart, "Where have you put him?" They said, "Lord, come and see." Jesus wept; and the Jews said, "See how much he loved him!" But there were some who remarked, "He opened the eyes of the
blind man, could he not have prevented this man's death?" Still sighing, Jesus reached the tomb: it was a cave with a stone to close the opening. Jesus said, "Take the stone away." Martha said to him, "Lord, by now he will smell; this is the fourth day." Jesus
replied, "Have I not told you that if you believe you will see the glory of God?" So they took away the stone. Then Jesus lifted up his eyes and said: "Father, I thank you for hearing my prayer. I know indeed that you always hear me, but I speak for the sake of
all these who stand round me, so that they may believe it was you who sent me." When he had said this, he cried in a loud voice, "Lazarus, here! Come out!" The dead man came out, his feet and hands bound with bands of stuff and a cloth round his face.
Jesus said to them, "Unbind him, let him go free." Many of the Jews who had come to visit Mary and had seen what he did believed in him.
PROMPTS FOR FAITH-SHARING
1.In the first reading from Ezekiel, God tells the people, 'I am now going to open your graves; I mean to raise you from your graves'. What are the areas in your own life in need of God's life-giving touch?
2.Through Ezekiel, God proclaims, 'you will know that I, the Lord, have said and done this'. What promises of God do you hold fast to you in your life?
3. In today's Gospel we read our shortest Bible verse in English, 'Jesus wept'. Why was it important for the Gospel writer to include this detail?  Does it affect your relationship with Jesus knowing he experienced human emotions?
4. Jesus reveals to Martha, 'I am the resurrection and the life'. How do you interpret these words?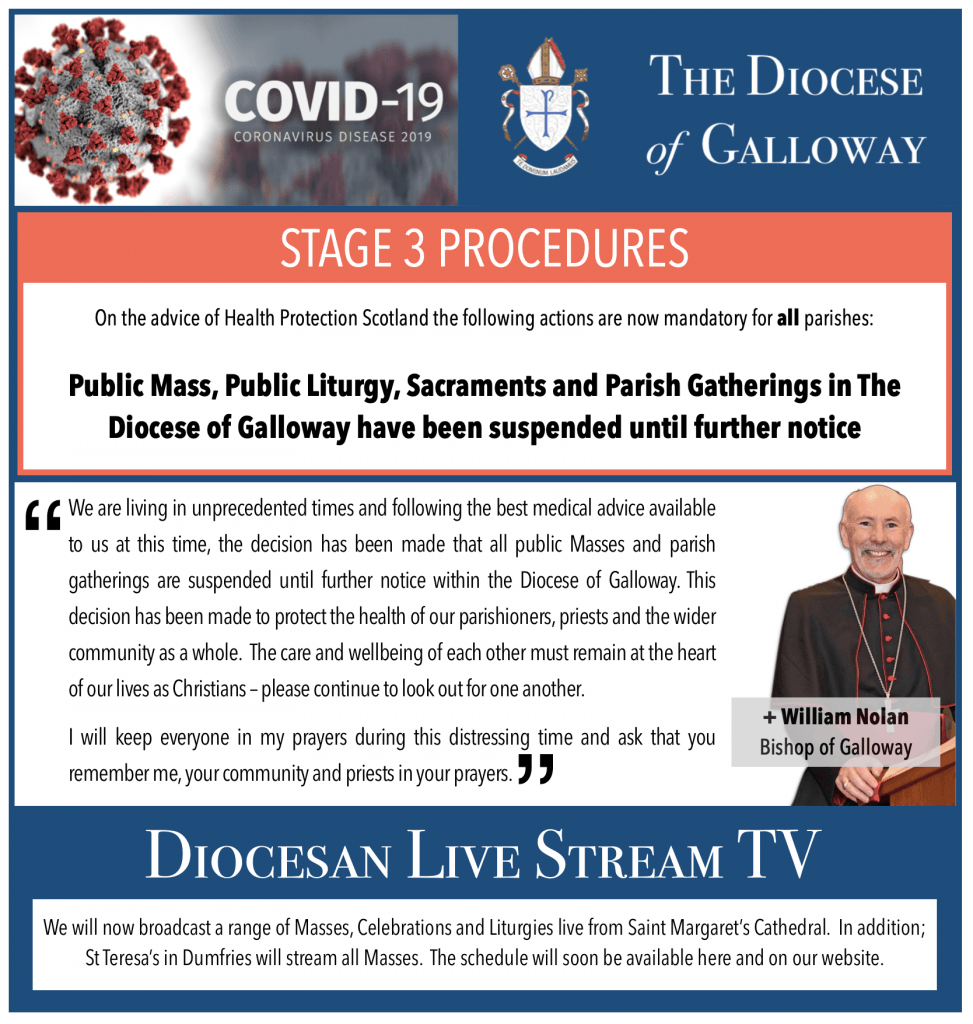 GENERAL DATA PROTECTION REGULATION
The Regulation came into force on Friday 25th May 2018, and gives individuals greater rights and control over the use of their personal information. Your privacy is important to the Parish Communities of St. John's and St. Mary's. We use the personal data, provided by you for Pastoral support and the administration of weekly collections. The information is held securely and confidentially in electronic or paper format. We will not share this information with third parties without your prior consent.  A fuller Privacy Notice is now available on the Diocesan website.  www.gallowaydiocese.org.uk/privacy-policy-and-gdpr