Click here for Church Bulletins
---
The diocese have published Emergency Norms (here) for those who are critically ill or dying during the Covid-19 Pandemic. These norms include what members of the faithful should do in the case of Anointing of the Sick or The Sacrament of Reconciliation.
In these difficult financial times, there is no obligation to give to the Sunday Collection. If, however, you feel able to, you can donate by text message to an account set up by the Diocese of Galloway. It is not possible to nominate a particular parish so all text-giving donations will be shared among parishes. To donate, text to 70085 the word  SUNDAY followed by the number of pounds, from 1 to 20. For example, SUNDAY 5 to 70085 gives £5. This message would cost £5 plus one standard rate message charge. Thank you for all your commitment and support.
The Diocese is launching an initiative to help Foodbanks that are struggling at this time.  The Diocese will give £1000 and is also inviting others to donate by text giving.  (Text FOODAID to 70085 to donate £5).
Please click on link below for video which launches this initiative from Bishop Nolan.
Due to the Coronavirus and the Government Lockdown, the Parish Office is now closed until further notice.  I will be working from home, if you require any information and assistance, just call the office number 01294 463461 and you will be redirected to my mobile, you can still email saltcoats@gallowaydiocese.org.uk.  I will do everything I can to keep you all updated on this website. 
If you wish to receive the Sunday Readings and Reflections by email, please email me and I will send them out to you weekly every Friday.
Take Care and Stay Safe
Lorna 
First Reading Acts 1:12-14
From the Mount of Olives, as it is called, the apostles went back to Jerusalem, a short distance away, no more than a Sabbath walk; and when they reached the city they went to the upper room where they were staying; there were Peter and John, James and Andrew, Philip and Thomas, Bartholomew and Matthew, James son of Alphaeus and Simon the Zealot, and Jude son of James. All these joined in continuous prayer, together with several women, including Mary the mother of Jesus, and with his brothers. The word of the Lord
PSALM 26
R/ I am sure I shall see the Lord's goodness in the land of the living.
The Lord is my light and my help; whom shall I fear? The Lord is the stronghold of my life; before whom shall I shrink? R/
There is one thing I ask of the Lord, for this I long, to live in the house of the Lord, all the days of my life, to savour the sweetness of the Lord, to behold his temple. R/
O Lord, hear my voice when I call; have mercy and answer. Of you my heart has spoken: "Seek his face." R/
Second Reading I Peter 4:13-16
If you can have some share in the sufferings of Christ, be glad, because you will enjoy a much better gladness when his glory is revealed. It is a blessing for you when they insult you for bearing the name of Christ, because it means that you have the Spirit of glory, the Spirit of God resting on you. None of you should ever deserve to suffer for being a murderer, a thief, a criminal or an informer; but if anyone of you should suffer for being a Christian, then he is not to be ashamed of it; he should thank God that he has been called one. The Word of the Lord
Gospel John 17:1-11
Jesus raised his eyes to heaven and said: 'Father, the hour has come: glorify your Son so that your Son may glorify you; and, through the power over all mankind that you have given him, let him give eternal life to all those you have entrusted to him. And eternal life is this: to know you, the only true God, and Jesus Christ whom you have sent. I have glorified you on earth and finished the work that you gave me to do. Now, Father, it is time for you to glorify me with that glory I had with you before ever the world was. I have made your name known to the men you took from the world to give me. They were yours and you gave them to me, and they have kept your word. Now at last they know that all you have given me comes indeed from you; for I have given them the teaching you gave to me, and they have truly accepted this, that I came from you, and have believed that it was you who sent me. I pray for them; I am not praying for the world but for those you have given me, because they belong to you: all I have is yours and all you have is mine, and in them I am glorified. I am not in the world any longer, but they are in the world, and I am coming to you.'
PROMPTS FOR FAITH-SHARING
In the first reading the apostles return to the upper room along with 'Mary the mother of Jesus, and with his brothers' and join in continuous prayer. Who are your companions in prayer at this moment in your life?
The psalmist sings, 'The Lord is my light and my help;/whom shall I fear? Where has fear or anxiety crept into your life, and how might God be calling you to renew your trust in him?
In his epistle, St Peter urges us to 'If you can have some share in the sufferings of Christ, be glad'. Who has been a model for you in enduring suffering with grace and peace?
In the gospel Jesus prays, 'I have glorified you on earth/and finished the work that you gave me to do'. How does your work give glory to God?
COVID—19
I wish to remind you that I say private Mass each day for people of our parishes and their intentions. 
Funeral Masses have now been suspended.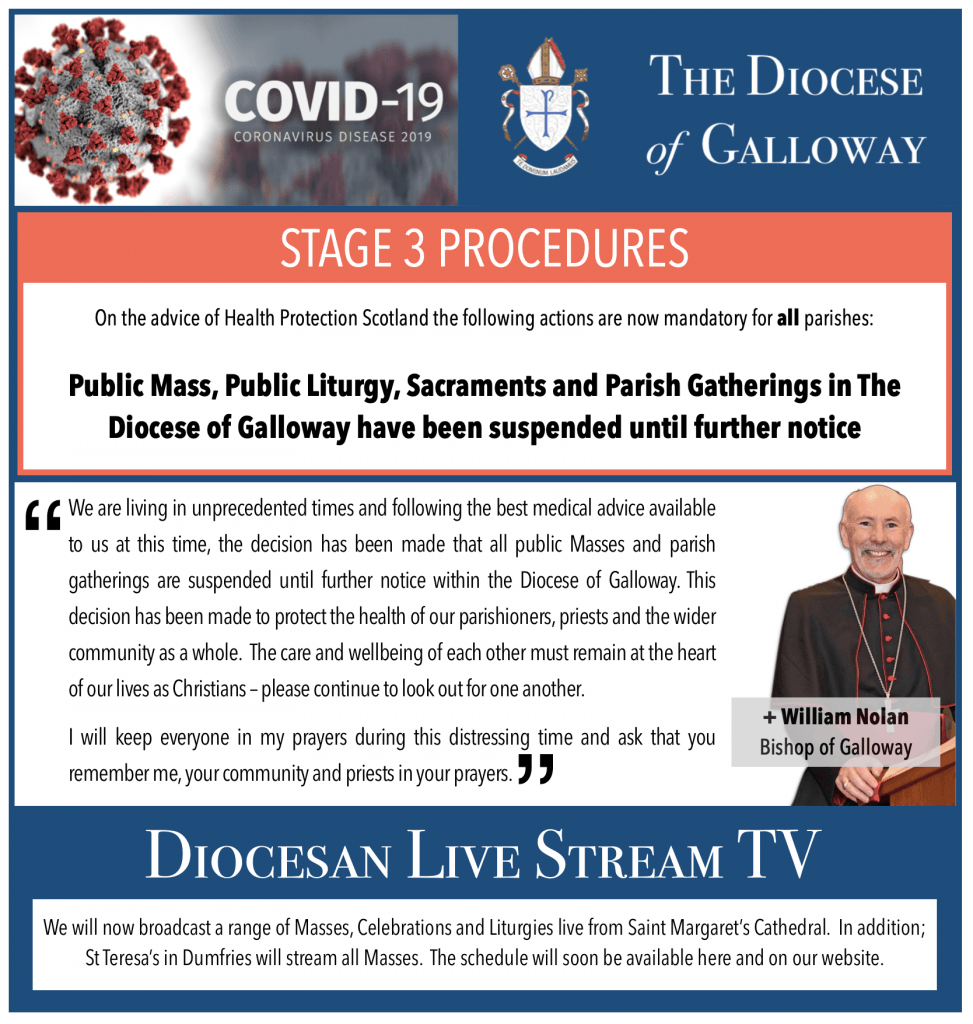 GENERAL DATA PROTECTION REGULATION
The Regulation came into force on Friday 25th May 2018, and gives individuals greater rights and control over the use of their personal information. Your privacy is important to the Parish Communities of St. John's and St. Mary's. We use the personal data, provided by you for Pastoral support and the administration of weekly collections. The information is held securely and confidentially in electronic or paper format. We will not share this information with third parties without your prior consent.  A fuller Privacy Notice is now available on the Diocesan website.  www.gallowaydiocese.org.uk/privacy-policy-and-gdpr